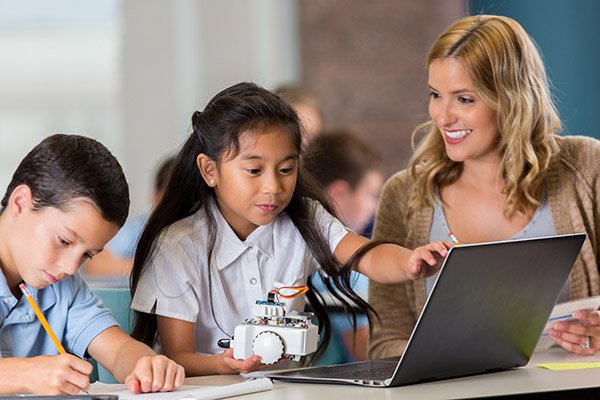 4 Reasons to Own an iKids U STEM Franchise
A STEM after school franchise will directly impact how children learn.
Becoming a STEM franchise owner is about far more than starting an education-based business. As an iKids U STEM franchise owner, you have a unique opportunity to participate in a foundational effort to better the community around you – you will help to grow the young minds who will one day run it.
Unlike other STEM business opportunities, iKids U owners will be able to establish a company that is wholly their own. With a solid learning infrastructure to build on, you can customize your offerings and build a business that represents your educational beliefs and your local community needs. iKids U also offers an extensive amount of franchise training, which helps to promote every owner's growth.
Here are four reasons why you should consider owning an iKids U STEM after school franchise.
1. iKids U has created an extremely supportive community. As an iKids U STEM franchise owner, you will be connected to a vast amount of resources. Our franchise training materials have been tested by highly skilled professionals, and we've seen them work; it's all designed to ease your operational challenges across a variety of different business scenarios. Ultimately, every owner will be exposed to a number of diverse resources, ideas and connections they can use to grow their franchise.
In addition to the internal support you'll receive, you'll be able to establish a variety of important connections in your community at large. Because you'll be providing an invaluable service for families and their children, you can become a valued and respected member of the community. These close and important relationships will connect you to families in your neighborhood and help you to give back to them.
2. We've created a business that offers purpose as well as opportunity. Despite the need for children and families to participate in STEM education and to have access to safe, high quality after school programs, many schools lack the tools and resources to provide them. Too many school systems are strapped for funds and simply cannot adequately fill this demand.
As a result, parents are often forced to place their kids in programs that are underfunded or hosted by people who are underqualified. When you become a part of the iKids U franchise community, you will fill the void that is left behind – and you can positively impact your own future at the same time.
3. We understand the power of learning for our franchisees as well as our young clients. iKids U will give you the freedom to own, operate and grow a business that is truly yours. Many of our franchise owners are former educators, entrepreneurs, and corporate professionals who wanted the freedom to run their own company but didn't know how to get started, or were afraid to risk business ownership without support.
An iKids U franchise will get you established quickly thanks to our extensive franchise training. We'll teach you everything you need to know to own and operate a STEM franchise. You will receive exceptional training and resources to help ensure your business is a success.
4. iKids U offers organized curricula. Unlike other STEM franchise opportunities, the iKids U program and curricula is fully developed and ready for you to leverage. The program we offer is well established and specially created based on decades of experience from trained educators. In addition to STEM learning, we offer brain games, one-on-one tutoring, Spanish language classes and other important areas children need like art and music.
Plus, once you have the program established there will be minimal effort on your part to keep it running. You'll need to update your offerings periodically, but once well established, the programs will run efficiently and effectively without considerable work.
A STEM after school franchise is an inspiring business. As a franchise owner, you will be responsible for enriching the lives of children in your community. Plus, given the extensive training franchisees received and the proprietary curricula you can offer your young clients, you are on the path toward exciting business growth.
To learn more about how you can become a STEM franchise owner, feel free to get in touch and speak to a representative today.